About Frank Lippett - Voiceover
Frank takes his work seriously, but not much else. He's really easy to work with.
Frank's voice has been a tool of trade for many years while he was a barrister in private practice.  He spent decades turning boring and dry legal facts into live-action Courtroom drama.  The power and persuasiveness of his voice was often the telling difference between success and second place.
For many years, he has also been a sought after keynote speaker both in Australia and internationally.  He has recorded audio books for not-for-profit organisations and as a hobby has worked as an entertaining announcer at agricultural shows.
After deciding on a complete career change, Frank has turned his narration and voice-over skills to assist businesses and various levels of government to clearly convey their messages.
Frank believes in not just reading a story, but adding nuance and feeling, so the words are brought to life; and the complex can be explained and understood with ease.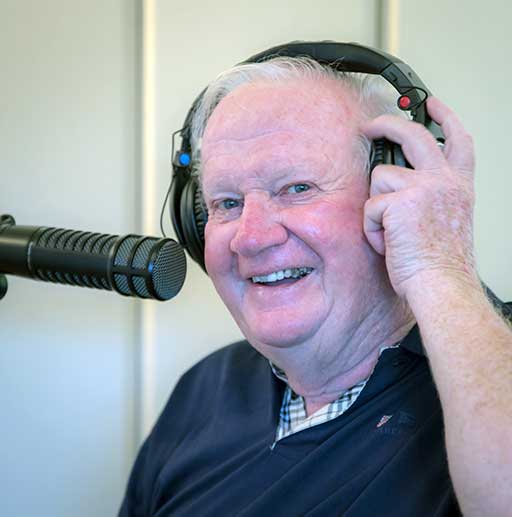 How do I book a voiceover?
Demo reels are a great starting point to help you choose a voice for your project, but nothing beats hearing a voiceover talent reading your words.
That's why Frank is happy to create a free short read of your script, so you can hear how his voice brings your message to life.
Simply drop us a line with the details of your project, and we will get in touch.
Voiceover Rates
Every voiceover project is different, and we are happy to provide an accurate quote once we discuss the project with you.
Short projects cost less than large audiobooks, and we don't charge extra for any pickups and corrections within 28 days of the recording. If you adjust the script after the voiceover has been made, a small fee may apply.
For a quote, please provide:
As much detail about the project as you can.
The estimated running time or word count for the project.
The style of voice you are looking for.
Any instructions on preferred file type (.wav is the default, but we can also provide reads in AIFF or MP3 if you prefer).
Where the voiceover will be used (e.g. radio, TV, video, other)
Your script if you would like a sample read.
Your deadline.
Payment Options
We believe in keeping things simple and easy, so you can pay via PayPal or bank transfer at the completion of the project.
Studio and Location
Your project is recorded in a private recording studio located in peaceful Samford in Queensland.
Industry standard, professional hardware and software in the studio ensures crystal clear sound and quality no matter the project.